Once you have passed the traffic choke points of Mlolongo and Kitengela, the drive to Maasai Eco Lodge, just past Kajiado, is a joy. The road is so smooth and traffickless that I am tempted to cruise all the way to Arusha, just for the heck of it. Then I remember I came here to run, not to drive. So I regretfully turn left, into the lodge at 1.00pm, ready to sample the best that Ajaa and Otora have cooked for us.
MC had asked people to leave Nairobi early in order to have time for settling in, lunch and other pre-run preparations. I arrive full of questions: where shall I sleep tonight? Who am I billeted with? And, most importantly, does she or he snore?
But MC responds like a proper African woman.
"Why don't you eat first and then I'll show you your room?"
Good suggestion. So, I do. And then she does. It turns out I am rooming with Ameet who, I am happy to confirm, does not snore.
We've got to pray…
The Chairman blows his whistle at 1.55 pm. Time for the long runs to start. We gather at the gate where announcements are made. Then we receive a benediction from Mzee Ole Nkaru, former Paramount Chief, who implores Engai (God) to protect us.
This should have been the first warning that some serious stuff was afoot. The Chairman has never, to my knowledge, organised a prayer before a run. Clearly he knew something we did not. That some of us would need divine fortification.
The second warning sign was his ominous parting advice:
"Remember this is an endurance run, the important thing is to finish (read, survive) not to run fast."
And so, with these reassuring words, we were off.
The first three kilometres are a breeze. A gently sloping trail and a cooling tail wind. I try to keep up with the front runners for a while. Then the trail takes a sharp turn to the left, the slope increases, the front runners shift into overdrive and the elites and also-runs are soon separated. Annabelle gamely keeps up with the elites though.
At the 3K mark, we come upon the first of many chalk mines that dot Kajiado County. The trail does an abrupt left turn at the mine and then…holy…bleep.
It is a hill so sharp that I get a stiff neck just trying to look up to see the top. The trail heads straight up with barely a turn anywhere. I reach for some choice expletives to describe Otora and his ancestry, but it does not help. So instead I put my head down, summon a determined look and start power walking.
The curse of the Maa
In Maasai tradition, elders (which is what I am aspiring to become) are strongly discouraged from swearing or cursing, even when angry. Maasai culture holds an elders words to be so powerful that they can cause disaster to befall a family or tribe if misused. I am told that the strongest expletive an elder can use is 'May you get lost.'
I must have used the Maa language during one of my anti Otora swearing episodes because I soon get lost. In fact I was to get lost not once but five times. The first time was soon after ascending the first hill. Ajaa and Nyingi, who run all the way up, caught up with me near the top.
"It is just a little more to go, and then we start rolling down," Ajaa says in his typical understatement.
But the run down proves to be quite enjoyable. Nyingi and I are chatting up a storm and not paying attention to the trail. I get so carried away that I miss the marks. We are lost.
We quickly spread out to see if we can reacquire the trail. Luckily, Surinder's son, who was on water duty, shows up at this time and directs us to the trail marks and the water point.
We each grab a bottle of water and run on…straight into another 'lost' episode. This time I make a wrong turn and lead everyone on a 2K merry chase to nowhere.
Lessons learned:
(i) If you want to piss someone off, chose a Swara (despite my off trail shenanigans, Aja, Nyingi and Annabelle are still talking to me).
(ii) No more swearing in Maa. Next time Otora drives me up the hill, I will stick to my Middle Eastern staple 'May your armpits be infested by the fleas of a thousand camels.'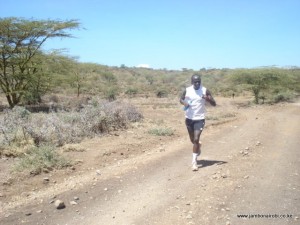 Raoul's Range; Surinder's Pass
By the time I have found myself, after overshooting another turn by 1K, everyone has left me. For the next one hour I am chasing the pack with no sign of a Swara in sight. At some point I begin to wonder if everyone conspired to take a different route, just to teach me a lesson.
"Have you seen anyone pass by here?" I ask a group of Maasai boys, as I huff up the second of the killer hills – one that lasted almost 3K.
"Wengi sana – Very many of them."
Somewhere near the top Peter overtakes me. Soon after I catch up with MC. A few minutes later we are at the top and I allow myself to relax. Surely we are done with hills now, I think.
Then I emerge from a grove of indigenous trees, onto a rutted cattle track that slopes steeply down.
That is when I see it. A range of hills directly ahead, they curve gently, like a crooked wall, to the south. At first it looks like there is a pass near the far end. Then I see another steep hill blocking the way. The only way forward is up one of those hills.
I run down the track, hoping Otora will at least have chosen the small hill in the center for us to climb. No such luck. At the bottom I find two arrows pointing firmly to the left. We are going straight up the steepest part of 'Raoul's range,' – a hill that was later to be baptised Surinders pass because this is the point where most of us caught up with and passed MK.
Oh my running God!
I need a drink.
Luckily at this time I come upon a bevy of Maasai maidens who are serving water. I grab a bottle and run past. Then I stop, look up Surinder's pass, pause for a minute and turn back. The girls look at me with some concern. Has he suddenly gone crazy?
"No, no…that is the right way, one of them tells me, pointing the way towards the hill."
"I know. But I need another bottle of water if I am going to tackle that monster."
And so I start my way up the hill. I am barely managing to stay upright. At the top I come upon a Maasai boy with his dog and radio, enjoying the view and listening to sun downer tunes. He waves politely at me, I wave back. Even then I can see the questions in his eyes.
"You drove all the way from Nairobi to come and do this?"
Past the top I pass MK, who tells me he is doing 15K. I look at him. I am thinking to myself 'Mzee has finally lost it, must be the heat.'
"How can you be doing fifteen when I am almost at 25K?"
"They told me this is the route for the 15K," he tells me. "So I followed."
I am tempted to make a smart ass response but I am so tired my brain has frozen as well.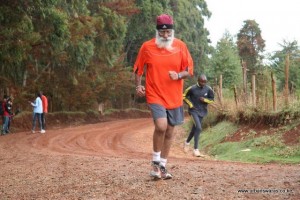 Revised aspirations
I run on. A short while later I pass Raoul. He is clearly not amused.
"I was hoping for a run, not a hike. This is even dangerous. They should have told us to…."
I leave him, still complaining and run on down the hill. At the bottom I find the final split…15K runners turn right, crazy people turn left. There is no contest. By this time I have revised not only my run aspirations, but I am also seriously re-considering the wisdom of my running career. I turn right.
The rest is thankfully all downhill. I arrive half dead at the Eco Lodge to find Leif, Wahome, Annabelle, Rosemary and others have arrived and are exchanging war stories. I have covered 31Km in 4 hours 5 minutes. This is the time I would normally need to complete a slow marathon.
We still have to wait for about an hour for Ajaa to arrive. He is the only one who was crazy enough to do the 40K, which took him well over 5 hours. But he arrives in style, complete with a royal escort of Otora and a Boad Boda outrider.
Consensus: we have a classic
After dinner we sit around the bonfire swapping stories from the day. The Patron leads us in a process to critique the run. People are struggling to find the most colourful adjectives to describe the experience. These range from the simple…'tough run' to the lyrical 'an amazing, torturous, yet fun experience' to Wahome's jaw dropper 'I found the run quite easy' (although he was heard to curse up the mountains like everyone else).
Finally a sort of consensus emerges. The Swaras have finally hit on a classic run, now officially the toughest on the calendar. Most people want to come back and have another crack at those hills next year. Some people feel we could do with a few less hills but everyone agrees that the tough terrain is a unique character of the run and the hills should not be flattened too much.
One thing we all agree on, though: don't tamper with the views, they are simply fantastic.
The day's events soon come to a close. Some people go to bed early. Others stay up quite late enjoying the beautiful, star packed, night sky and the many drinks and bitings on offer.
A recovery run is planned for early the next morning. I manage to miss it without even trying. But I understand 14 people show up for this 'hair of the dog' (smell of the antelope, in Swara lingo) run. Clearly Swaras are a tough lot.
A wonderful run despite the pain. I hope to do it again next year.
Thank you Otora and Ajaa.