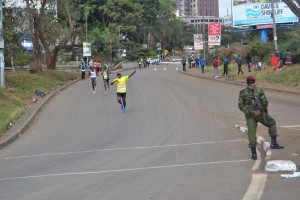 Having read many Swara accounts on their experience at the Standard Chartered Nairobi Marathon, I did not see the need to write another article fearing it would be the same/repeat of what most of you have been reading. However, it took Nduku's  (aka Tata) telephone call on Thursday at 1:30pm to convince me to write something. I was impressed at how she convinced me, "Davis, you know everyone went through a different experience even those who are keeping quiet". Tata said. And I thought, she is talking about me and all the timid souls (oops sorry "legends") who have a story to share no matter how bad it was. It also got me thinking, that the more we share on our different experiences, the more we learn on some do's and don'ts in a marathon.
The day before the Marathon (at Jeffery's), Caleb shared his experience of his 2014 Stan Chart Marathon where he did not pace himself well and ended up doing a sub 4. Of course a sub 4 is a good achievement to most of us especially if it is your first time like him. However, he achieved this run by running so fast during the first 20km and painfully slow in the remaining Kms. Today, I now understand why he was happy 50-50 (bitter-sweet) when narrating his experience. Foolish of me, thinking something like that should not befall me, happened to me on Sunday 25th October 2015………
0Km  -We are flagged off, and I start at a pace that I find comfortable. My mind echoing the words of the Chairman "run your race".
3km -I notice, my pace is fast according to the Garmin (borrowed from one Mbarire -Thankyou!!), but my body feels comfortable. I'm confused should I slow down and follow the Garmin feedback or should I listen to my body. The inner voice speaks and says if you want to achieve your goal of 3:30 listen to your body. So I maintained the pace.
5km -Speed remains the same and I get excited when I see a fellow Swara (Timo) ahead of me. I check my pace again and it's still the same at a scary 4:20/km. So, I slightly change strategy and tell myself let Timo pace me since I have ran with him many times in the swara runs and his pace is similar to mine. I know, -wrong move!!
8km – I catch up with Timo -not the plan, but good for some conversation. At least, one way to know if you are running at a comfortable pace is when you can have a conversation without panting I tell my self. "What's your target", I ask him without panting, "3:30" he responds. "That's my goal as well" I retort. I deliberatley look up at the Garmin to check the pace which is averaging 4:10/km. I mention to him, "if we continue at this pace we shall surely nail it". He agrees as we continue with the run.
9km – We are still neck to neck with Timo and I mention to him about the museum hill up ahead. I adjust my pace downwards in preparation of the hill.
12km -The hill is covered without much effort. However, I notice Timo is now behind. I check my pace again and notice, these are not my normal speeds and definitely not for a full marathon. However, my breathing seems to be normal and body is not complaining. Damn! If I slow down, I may not make it to my 3:30 goal an inner voice tells me.
15km – I notice the route has many other runners. I sense some discomfort as runners pass me fast. I get confused, as I am not sure If I should increase my speed or reduce (I realise my mixed feelings is because I have never run with other athletes doing shorter races)I calm down and ignore them.
20km -I check the Garmin again (SMH!) 1hr 30mins "This is not good time for a novice like me doing a full marathon". Abdi (our official photographer) asks,  "did you take a short cut?" I smile at him as I continue with panic. I have been listening to my body, no signs of panting or getting tired. I have another 22Kms to go…… Can I run with the same pace?
25Km -Fatigue starts creeping in (ignore, ignore, ignore rings in my head). But I can't fail not to notice my pace is down to 5:40/km from 4:40/km. I do a quick calculations on the remaining KMs and at the current pace, I can still hit my goal.
27km -I slowly start grinding to a halt. As the 45 degree angle my lower legs were making from one step to the next nears to less than 5 degrees. My calfs start to pain when I try to lift my lower legs up. I can also feel blisters and toe nails screaming "remove the shoes". Damn! this cannot be happening now. Timo catches up with me and realises something is terribly wrong. I wish him all the best. ( I Later learnt he finished below 3:20)
30km -Painful to say, but yes!……… my walk of shame started somewhere around here. The legs just gave in, thanks to not doing enough long runs and concentrating on speed works. The best I could do is only walk and try some baby steps in a slightly not so fast motion.
35km – I slightly improve my pace as I go back from Nyayo Stadium to Vitafoam. Thanks to the support from Chikani who urges me to push on with a bite of Oranges and Water Melon (fantastic support).
37km -As we approach Nyayo stadium roundabout towards the finish more pain on the legs coupled with fatigue, Thanks to the hard surface (Tarmac) that I am not used to. So I do the walk of shame again. James Waliaula shouts from the other side of the road while riding his bike, Davis run! with all the guilt of aspiring to be like him some day, I try to pick up myself and continue.
40km -I'm now making progress on my runs, thanks this time to the crowd swelling at the Nyayo Stadium Roundabout. "Everyone is watching" I tell myself, this is not the place to walk. I later learnt my better half and kids saw me here and they tried to shout my name (Phew! I didn't walk at this stage).
42Km -I finish exhausted and completely worn out (bitter) at 3hrs 36mins (Sweet).
Despite finishing 6 mins off my goal, I'm happy, I shed off 28 mins from my previous Marathon. Sad, I did not finish strong.
Lessons learnt:,
1) Pace yourself well -Use gadgets (they are more accurate) rather than natural instincts.
2) Follow your training Schedule strictly -I missed a couple of long runs and concentrated on speed work.
3) Running on tarmac is very different from what I am used to -Not sure how to overcome this.