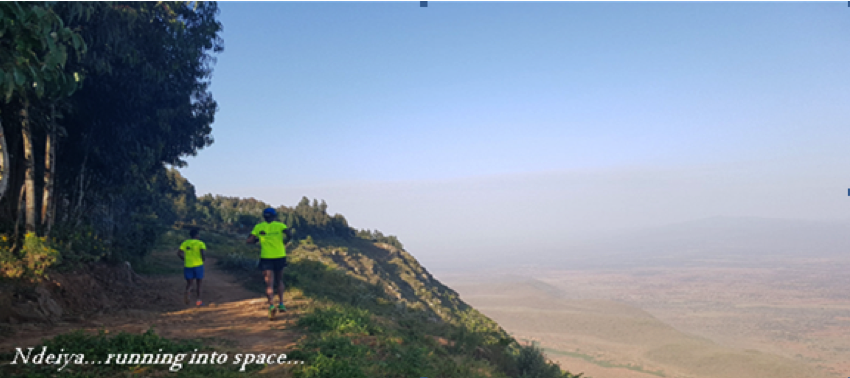 Highlights of the year; that's what I see all over on TV, Papers and other forms of media, social and antisocial. It being the seasonal fad, who am I to be left behind? So idling away the dying hours of 2016, I reckon it's not the worst idea to idle away mulling over a little running. So if you find this long, unhurried and random it is because it is long, unhurried and random.
2016 has been quite an eventful running year. It being only my third year on the run, and second with the Swaras, It would be logical to still be on an upward trajectory before eventually plateauing out. I can't wrap my head around those Swaras who've been in this business in excess of 10 years. That's resilience…
The 2016 running menu has been exhaustive; there has been squelching through mud, wading in water, running through the elements; from scorching sun to refreshing rain, stinging nettles, wobbly bogs, dense thickets, arid landscapes, vertical inclines, boring old tarmac,… the list goes on. With such a wide horizon of run experiences, I just might have a highlight or two.
The Highlights; 2016 Hall of Fame
Run of the Year: Fluorspar takes the prize hands down. This run is special; nothing can beat an elevation gain of 1972 m, a top altitude of 2745 m, a run that goes only one way-up, the beautiful countryside, the sublime feeling of accomplishment… This run is the kind of experience that can be a manifesto. You might just see this on a 2017 billboard;
Vote Cheruiyot; He ran The Fluorspar…
Most Torturous Run: Ilovoto… the tribulations were captured in these pages. I don't want to talk about it. You may notice though, that I made out of it alive.
Most beautiful run: Ndeiya controversially takes the prize. It is that freezing run at the edge and shoulders of the rift valley; it also doubles up as the coldest. This is a most competitive category and I had initially named it 'most scenic run'-which made my work impossible. The Graceland run also has to be mentioned here, I enjoyed it no end.
Longest Run: Kenya Ultra, a run in excess of 64.7 kms (64.8 kms actually, but saying 'in excess of' makes it seem infinitely longer…) so 64.8 kms done and dusted, no walking, no ambulance. But not before my physiological and psychological limits were put on trial, tottering on the edge of sanity at some points. But conquering such a distance comes with a feeling; I think it's what they call 'runners high'.
Competitive run of the year: Vic falls marathon (3:14). It may not be the fastest but it clearly is the favourite. I managed three full marathons, the other two members of the trilogy being Kilimanjaro marathon (3:25) and Nairobi StanChart (3:04), fortunately sweating out a PB each time.
Caveat; for avoidance of trouble, the categorization is my personal opinion. I missed some runs which are rumored to have been super, example being Kereita.
Some honesty: You can stop reading here… the paragraphs that follow are lots of rambling.
Lessons Learnt the Run Way
The road taught me a few things;
That one has a minimum speed: do not run below this speed – you'll stumble, the fall will not be pleasant. This happened no less than three times this year, latest during the Naivasha AGM run where running at a negative speed of 7:25 mins/ km I fell, twice, downhill, thank heavens thick white dust was at hand to embrace me, greatly cushioning the falls and in the process making me look like a makeup experiment gone bad.
Since this is about 2016, I'll not mention a similar stumble episode that happened in 2015 at the Run-Together in Mai Mahiu where the embrace was in form of mean rocks, and Elvis, running close by, had that doomed look he may have to put his muscles to good use and play stretcher… luckily I recovered ever so slowly and painfully hobbled off.
You can run faster than your maximum speed: don't do it though. Its evening in Ruaraka, Victor (the paparazzi) and myself are set up for some speed work, we run an explosive 1k in 3 mins 08 seconds, fastest K ever, we have another go, I try to keep up with victor who has grown wings, I exceed my speed limit, my left hamstrings can take it no more (being what they call a southpaw, my left leg usually takes the beating), the said hamstrings snap, I actually feel the snap. The next weeks are rough, I've picked up a debilitating injury, the experts say in the next three weeks I need to run a maximum of zero kms, and Stanchart was just a month away. Lesson learnt; don't run faster than your legs…and avoid guys who run at shutter speed.
Do not run more miles than your body can handle- especially happens when trying to make up for lost time, like after cutting back on running after the hamstring episode. I read somewhere that Eliud Kipchoge runs 220 kms a week; after a little research, I uncovered that like Kipchoge I am also human, heck, we come from the same county… until I tried my own 200km thing, and my belief in biology is now on shaky grounds…
The reverse of 3 above; The repercussions of not running are straightforward, one or two things will happen; One: most people will add more padding to their one-pack, Two: some people grow a two-pack, these tend to grow on your lower back, one on each side at the same latitude with the one-pack. The one and two packs are fine until you get back on the road and realize that in just 1.5 months you are back to where you were before evolution began. Exactly my situation these last two weeks as I try to get back in shape for 2017.
Do not get injured- You don't want to be the running dead. For a runner, this is the kind of stuff that will be your ultimate frustration. I was lucky to escape with only a stressful hamstring-a touch of carelessness on my part too as this is usually a sprinters' and 'short speed bursts' sort of injury. I may have had a few other scares which fortunately amounted to naught.
However, sobering injury tales abound within the swara herd… you'll hear of shin splints, ITB syndrome, plantar this, patellofemoral that… fancy aristocratic sounding names…until they visit you…and then you'll be miserably out of action for a looong time.
Some Other Randoms
Intense Marathon Preps will lead to undesirable weights; you could go as dangerously low as 61kgs. But this is something you get to effortlessly reverse in the months of November and December, and it becomes a cycle.
You get to learn that running is a seesaw, one day you are running with the Swaras in Nairobi and are a fairly decent runner, two days later you are running in your backyard of Nandi, 'Jambions' whizz past you and it's no debate, you are the slowest embarrassment of a runner that ever ran these roads…
That the 'Recreational' in 'Recreational running' is not the 'Recreational' in the dictionary. You'll easily turn into a mercenary chasing PBs, graduating to higher distances and different race types, shedding those packs or something. And as a reward you enjoy the bonuses of nature, camaraderie etc….I have managed to see one or two Swaras who unbelievably are not chasing any of those obvious ends. I still don't understand them, maybe I will, maybe I won't.
And when you feel the urge to run on and on into the darkness of night, through some unlit lonely parts of the city, just know that you'll be mugged all the way into next week…
Now, this is too much literature from a running dwarf. At this rate, the 10 year experienced ones better not get down to writing or we'll have encyclopaedias circulating around these parts.
So kwa hayo mengi (in those many words), its good 2017 tidings to you all from myself. It has been bliss running away from you this year…let's do it again come '17.