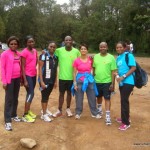 Date: September 3, 2011
The Mt. Kenya run is organized annually by the Nairobi Hash House Harriers.
For the Swaras, this run had been in the cards since early July when the Swaras calendar for weekend runs for the period July to early October 2011 was rolled out.  It is one of the more adventurous and difficult runs.  It was my fourth Mt. Kenya run.
The runners who decided to have their debut this year are Avani, Violet, Eugenie, Alix, Ferrah, Mulinge and the indefatigable MK.In the two to three weeks leading up to this run, MK had trained so hard, ever doing the long runs on weekends and sweating it out twice every week in Arboretum.