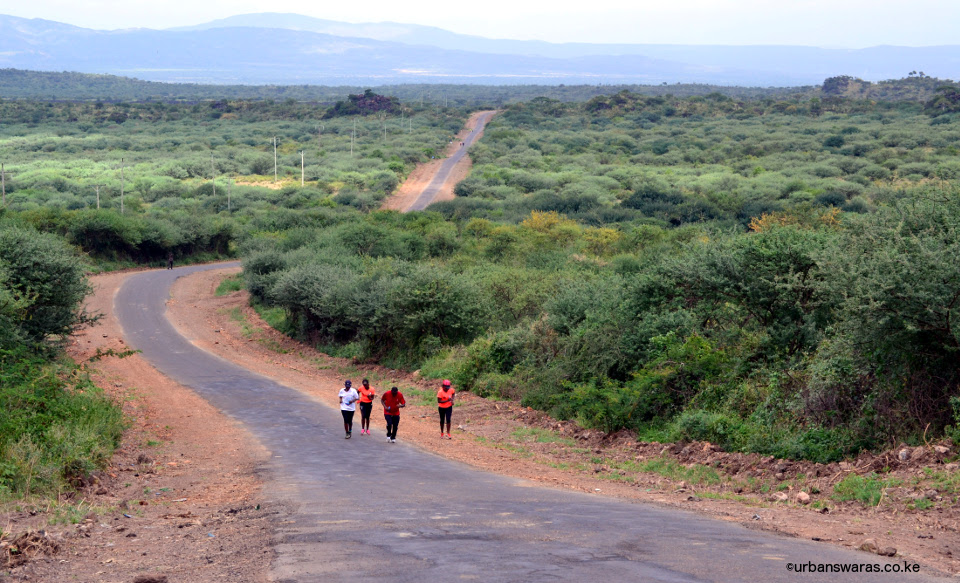 It is said: Learn from the mistakes of others. You can't live long enough to make your own.
Well, yesterday I proved that I have lived long enough. First, I ignored all the tell-tale signs the universe was sending me- my running watch died last week, and I l forgot my music on the table in the house on the morning of the run. I am one of those people with an unhealthy attachment to my watch and my music while running.
Secondly, I ignored all emails breaking down in very clear terms what the Chairman's run looks like and got myself to Magadi in such a hurry I was overtaking even the air itself on my way to Hekima to make it in good time to be ferried to the starting point.
Thirdly, at Hekima, God sent an angel in the name of Molly to share experiences from the past with me on the drive to the drop off point for the 40kms. I listened and made the sensible decision to do the 20km. Only that when the 25km drop off point came, unseen forces pushed me from my seat and I was soon on the road flexing my muscles waiting for the whistle to blow so I could show Magadi that 25km can be done with an injury and lackluster training.
That I am sitting here writing this goes to show that God forgives foolishness. The run started well enough for me especially that I managed to get hold of myself and do a very slow pace. Not those mad dashes I do at the start like a rabbit crossing the road. Things were going well, the air was crisp, the landscape amazing, cows were grazing and mooing, the smells around me were earthy and alive, mixed with wood smoke, traffic was nonexistent and life was just beautiful. I even spotted small wild animals and a baboon crossed the road in front of me giving me that look that showed that he/she knew that today, I was not joking.
Then the hills started. And I was like 'I can do this'. I felt ok, and I was like 'let me do it slow and as soon as I get to Olepolos, I will pick up my pace and do that beautiful finish- arrive charging through Kona baridi like I own long distance running'. I did arrive back at Hekima, many many hours later, and in such a state that I had the occasional passerby looking at me with pity. That stretch where I was supposed to pick up my pace at Olepolos is the exact place where my body lost the plot. That hill before Olepolos (is it a hill, or a mountain?) I walked. I looked up ahead. When that didn't work I gazed at the tarmack. Then I turned my eyes to the skies. My aim was to look anywhere but the road/hill ahead of me. That I didn't enter Olepolos is true testament that I have a shred of willpower somewhere. I did run/walk at this point with a gentleman with whom I shared my thoughts of how Olepolos was the true north for me. That I would be fine once I got there. Later I realized that he employed exceptional skill in responding to me- he kept my foolish dreams alive, while at the same time managing my expectations. Thank you sir. I didn't get your name. I am that chick in orange, eating trail mix, breathing heavily sometimes, and almost not breathing at other times.
Somewhere my butt came alive. I felt so much pain in my gluteus maximus every time I took a step. Muscle cramps set in on my feet and I spent all my energy doing mental tricks with them. At some point-must have been 22km- I started to get a tid bit delirious despite all the water I had taken-about 7 bottles- and all that trail mix I ate. Not to mention the occasional melon and oranges from the support vehicles. It was hot.
Step by step, I covered the distance and zoned everything out. Magadi is TOUGH. I was told Ilovoto was worse but I was not there. Magadi is my painful experience. There is this guy who was ahead of me in the distance for forever-walk running. He became my inspiration because I somehow felt and knew that we were both carrying the same cup of suffering. If you are that guy, thank you for not stopping, because if you did, I would have stopped too. Our hero James also came to mind at various points of my grueling ordeal, not for comparison (for heaven's sake, he did the Comrades in the time it may take me to run a full), but for inspiration.
In my own way, I conquered Magadi. Many thanks to the organizers and to the support team. You were simply amazing and true to the task. Every time a support vehicle pulled up beside me it had water to dish out and smiling faces asking if I was fine. Once when they asked if I needed a ride I pictured the temptation of Jesus in the desert with bread (it was bread, right?). Saying no to that ride must have strengthened a part of my brain.
Raoul in an email last week or so said that Magadi support vehicles drive up and down picking up dead bodies. They might still be out there collecting but there is one thing I left out there on the road which they shouldn't bring back to me if they come across it: Fear.
PS: What really was the true 25km distance? Every person who passed me communicated different distances. At one point, I knew I had 9kms to go, and someone about a km later tells me 13km to go. I wanted to die.