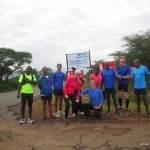 Date: Saturday August 31, 2013
Ever since Wilson Kiprugut won the first Olympic medal for Kenya in 1964, Kenyan elite runners have gone on to dominate world athletics, consistently bagging medals in middle and long distance races around the world year after year. As part of their training, a number of these runners periodically test their mettle at Kerio Valley where they run from near the Kenya Fluorspar Mining Company premises to Nyaru on Eldoret–Eldama Ravine Road, in the process climbing a staggering 1800m. Last weekend, the Urban Swaras set out to follow in the footsteps of these elite runners and get a first hand experience of this formidable trail.
Leif Newman, Sweden, August 31, 2017
Dear fellow Swaras,
Just a few words of appreciation. I am now moving back to Sweden. Being a member of the Swaras has been one of the most memorable things during my five years in Kenya. Fantastics runs, wonderful friends and so many adventures.
Thanks to all of you and especially Ajaa and the CRE. Now I will be running in Sweden instead. Hope to see some of you in races in my home country.
All the best, and running is living!
…………………………………………………………………………………………………………………………..
Jorunn Goeransson, Sweden, January 5, 2017