My London Marathon journey began in Edinburg, Scotland in May 2015. I was sharing my running escapades with an Englishman at a conference and he offered to have me registered through his UK based charity team. They were gracious enough though to allow me raise money for a charity of my choice in Kenya, and waived the registration fees. Organizing a Fundraiser can be a big challenge and up until April this year I still was undecided on the charity and/or format. Despite my training going well I was feeling frustrated on the fundraising front given that I had successfully fundraised during Chicago 2013. The London marathon is the biggest annual single-day charity fundraising event in the world, raising over UK Pounds 25 Million (Ksh 3.75 Billion) in 2016, surpassing 2015 and setting a new world record. Most of the participants run for charity. I really wanted to be part of history. At the worst I would run just for a PB.
2nd April. I had planned for a long run in Ngong and had hired two guns. A pacer and a boda boda guy. I planned for a 35K from Ngong town towards Magadi road and back. On the said morning at about 2am, I get an SMS from the boda boda guy about heavy rains overnight and that the terrain would be impossible. On to Plan B. I decide to pick my pacer, but he doesn't show up either at our meeting point, and his phone is mteja (off). I had been training with him for about a month, although I had previously fired him for failing the alcoblow test and only gave him a second chance at his pleading. I eventually decide to go for the Swara run at CITAM Karen. I would probably start early on my own. The gates at CITAM are locked and on calling Otora, he informs me he is out marking the trail because the rains had washed out the markings the night before.
At 6 am, feeling frustrated, I head to the Coffee shop at Oil Libya opposite the Galleria mall to get me a cup of tea. As I wait to be served, in walks Kevin Mwachiro and his friend Raju. I had never met Kevin before, but I easily recognized him from his Facebook pictures. We got chatting and discovered he knew about my Bloodlink work and had even done a piece on BBC. I had read about his journey with cancer and knew this Saturday run was dedicated to raising money towards his treatment. You can now imagine what was going through my mind. This is who I was meant to raise money for…my failed Ngong run was so I could meet Kevin. It had taken me all of a year to get this figured. Amazing stuff!! And up until now, I had thought I was the only Swara running London but after the run I meet Daniel Harrisberg who has just moved from SA, and this was his first Swara run. We decide to form #TeamLondon for #TeamKevin. By the end of the day, we had more than 100K in pledges. We were seeking per Km sponsorship with a time bonus for a sub 4 from me. I didn't realize what kind of pressure my Sub 4 dare would pile on me. Now though, all was figured and l was set for the 24th of April, or so I thought!
Thursday 21nd April, day of my departure. I check on the London weather forecast and surprise! Snow and sleet with temperatures of 8 Celsius moving to low double digits. I truly wasn't prepared for this but I quickly re-plan my running gear. I arrive in London on the 22nd and it's cold and rainy and I am thinking I am really not prepared for this. I decide to stick indoors in my hotel room most of the day.
Saturday 23rd. I look through my window and the sun is shining. I decide to go for a 5K run. I step out and although still cold, it is doable. It turns out to be a 10K after I get lost. I later head to the expo by train to pick up my race number and do some shopping.
Sunday 24th April. D day. The start point is at Greenwich Park, two train rides away from my hotel at Kings Cross. In London all runners have to arrive at the start point by train (apart from the elite who arrive all warmed up). I leave my room at 6 am for the 10 am start dressed in ¾ tights, a singlet (vest), gloves and a warm top that I plan to throw away later in the run. But immediately I step out of the hotel the reality of the weather hits me. Its 6 Celsius, rainy with a slight snow shower. There is no way I will run in a vest. I head back to my room and don a T shirt and warm top that I plan to keep on through the race.
The starting point at Greenwich is buzzing with activity and lots of hot tea and coffee for the runners. The two-hour wait is too long though, and so we quaff at loads of tea knowing the price later would be lots of pee stops during the run.
10 am and we are off. London streets are narrow and what that means is the crowd of 30,000 plus runners does not thin until about 15K. There are actually 3 start points with the groups merging at about 3K. A pain at the back of my Knee at 2K has me panicked. I had never experienced it before but I attribute it to the cold start. It persisted throughout the run. I manage a 1:58 first 21K but at 28K I am winded with the pain now more pronounced. I watch the 4hour pacers fade into the distance and in my mind I am thinking, there goes the bonus pledges. I try keeping up with the 4:15 pacers but only for a short while. Meanwhile a short distance ahead of me at 35Km, some guy has collapsed and the medics are trying to revive him. That sight scares me sh#$%@ (He later died). I am so worn.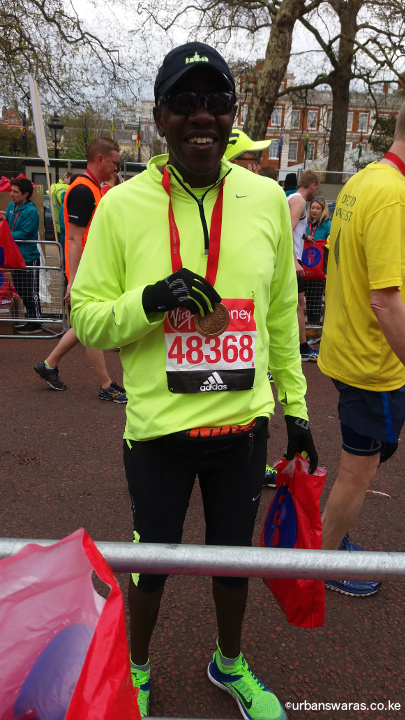 I manage a 4:28 finish which is a PB and a 3 minute improvement from my Chicago 2013 outing. I am excited to have finished two of the six majors and look forward to the other four. It is also my 6th full marathon. At age 55 you can only thank God for good health and such an accomplishment. My team mate Daniel Harrisberg finished 3:37 although we never met in London.
The fundraiser for Kevin is my biggest thrill. Kevin and I have become close through constant chats, emails and phone calls and he followed me throughout my run. I wish him Godspeed through his recovery journey. So far we have about Ksh 248,000 in pledges. Please honor your pledges including the time bonus where you can (I really did try for that Sub 4).
Tata, Bryan, Elvis and Lucy, thank you for sacrificing your Thursday morning to accompany me to Ngong for my earlier missed long run. Thank you Swaras for your training and fundraising support; I wouldn't have accomplished the feat without you.