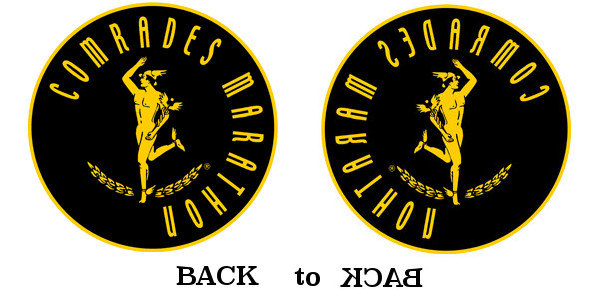 "In Flanders Field the Poppies blow, between the crosses, row on row, which mark our place; in the sky, the larks, still bravely singing, fly scarce heard amid the guns below. We are the dead. Short days ago we lived. Felt dawn, saw the sunset glow. Loved and were loved, and now we lie in Flanders field" excerpts from John Macrae Poem on his memoirs of the First World War. One of the survivors of the horrors of that war was a humble steam engine driver, Vic Clapham from the town of Pietermaritzburg in KwaZulu Natal, South Africa. To honor his fallen Comrades he created a living memorial, he started a run that would capture and embrace the spirit of fortitude, bravely and endurance. Comrades Marathon was born. The marathon is run annually between Clapham's home town of Pietermaritzburg and Coastal City of Durban. The run starts interchangeably between the two locations. Comrades 2018, the 93rd edition, was a down run starting from Maritzburg. Don't be fooled by word down run Comrades course remain almost the same, you still have to concur numerous hills on your way down.
Any lingering doubts I had that you watch only free to air TV have now been laid to rest. How else would you have missed the biggest piece of news in town? But since am cool like that I will break it down for you. I ran 3.454kms in exactly 52 seconds. Yes I did it. Before you start calling me names, here is how. There is an old adage that numbers don't lie, why should they start now. Since am the one unravelling them to you, here they are. Comrades 2017; Distance 86.73kms time 9.55.05hrs. Comrades 2018; distance 90.184kms, Time 9.55.57hrs. Difference in distance 3.454kms, difference in time 52 secs. You see the reason I will go to heaven, I don't lie. 3.5 kms in exactly 52 secs. Does mathematics gets easier than that. I know what you are thinking and trying to bring logic here but let me spare you the trouble, don't argue with me. Last I checked we are not age mates. This is my story and I am sticking to it, make yours and sell it. You can't blame me for the ineptness of your mathematics teachers and yourself. Probably results of free primary education, now on free to air consumer bracket, choose one struggle mate. Am also sure you're wondering why I include millimeters in the distance, wonder no more, am petty like that. There you go, new sheriff in town, all the way from the hills of Mau with love. Take a bow so n. Now send all the gifts, we accept even the crypto currency called crates of beer.
Comrades 2018 lived up to the billing as The Ultimate Human Race, my training started in December and even after covering a total 1,941.72kms in the training which included over 14; 40kms runs, you still can't help but feel like you have not done enough as you stand on the starting line on a freezing cold morning in Maritzburg. As they say show me your friends and I will show you the doors you knock at, that might not be the saying you know about but you know why? English is my 7th language well below sheng, body language and other ungazetted ones. Moral of the story I kept John Kuria as my training partner because last we did it together nothing was broken, why the hell fix it. Don't be fooled by the numbers there on the starting line, 20k plus, once the cock crows you're on your own. And whether you're running it to win it in just 5hrs or just finishing in the allowed 12hrs you still cover the 90kms the rest is timing difference.
This was our back to back run having done the up run last year. You see the organizers have this funny arrangement that if you run your first and second comrades consecutively, on finishing the 2nd run you get two medals, one for that run and another for running them back to back, it's a once in a lifetime chance. Reason? Your guess is as good as everyone's, Comrades is brutal, people come here and get humiliated never to attempt it again. But as they say if Comrades humiliates you, there is nothing wrong with you. It's just what the run demands, RESPECT. Armed with the most potent of weapons, experience. I set out to enjoy the down run and just worry about the cutoff of 12 hours. Yes, last year's run did it thing on me. Most of training was done at a pace of 6mins per km and this was the strategy for the day. But as I would realize later, best strategy is no strategy. Not training doesn't fall into the category. The following is my sidelines experiences on the run. Nothing much is related to running but sideshows, if you're of short time you better stop here and move on swiftly.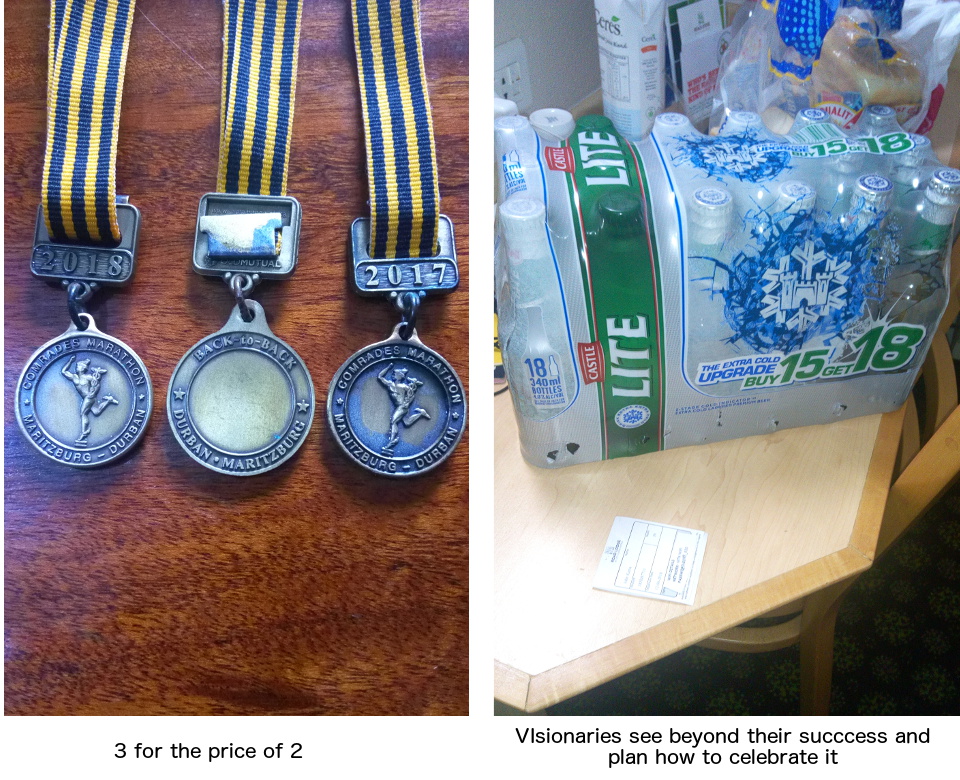 Touch down in Durban is 2 days before the run, nothing much happens here as you can't even breathe in too fast just in case you mess up the fitness levels. Just stock up with Carbo-loading food stuffs, water and the like. But true to my character, I am a visionary we need to stock up for the after party. Indulge your imagination on what figured most on the budget. The flight from Jo'burg creates the atmosphere that this is Comrades weekend. Everything in Durban comes to a standstill.
Saturday is a Dash to the Expo to pick the Race Number, on getting there first shocker, we have to queue with the rest of the South Africans since Rest of Africa is also Africa and Africa is South Africa. You can't really blame them can you? After all an (in) famous person of public interest believes that Africa is in Namibia. The process takes 20 mins or less thanks to the flawless registration process. We enter the Expo but there was nothing much going on there and in exactly 2 hours we are out. Prices at most of this Expos are exaggerated akin to a Hawker in down town Nairobi on sight of a light skinned mortal even though some might have bleached. The rest of the afternoon is spent legs up and drinking lots of water in readiness for the big day.
Pre-race dinner and briefing is at 6, announcement that breakfast is at 2 in the morning, the bus to the start point (90kms away) leaves at 3 with or without you. That's all the briefing, all this time everyone is behaving as if you are just up to a morning jog. So what to do, act Captain Cool. The menu is rich with anything you would need on the evening before the race and justice is served. Back to the hotel room but sleep is always a scorned in-law the night before the run. Power nap and at exactly 12.30 you're wide awake after sleeping for a solid 189 minutes. 1 am its breakfast time, rush back to the toilet for 17 times within the hour before the bus leaves, oil all your essentials, because in a few hours all the talk will be over, it will be party time. We leave at exactly 3 and the 90kms journey is fast until 15kms to Maritzburg where part of the highway has been fenced of as it will be part of the course. We however manage to get into the city well before time. Long queues are formed on the mobile lavatories and one can't resist the temptation to queue yet again just in case something has found its way down your digestive system. Another queue at the Tog bag drop-off points as my mate John has carried a Tog bag, I decided against it. Forgive my eyesight but there was nothing much in it. Actually the only thing I saw coming out from the bag in Durban many hours later was a beer. As to who consumed majority of the content on that can, I will take the Fifth or pushed I will just say what any serious liar in this town would tell you to say, I don't recall. After all, isn't that why National Security exists? So that people can maintain "sharrup" on things that less concerns them.
The air in Maritzburg is almost carnival, the streets are full of song and dance and people walk up and down to make their start corals. Its freezing cold as it had been predicted that it would be as low as 8 degrees. We are all tucked up in our corals by 5.20 as they close corals and the first movement is made towards the start point. As always the National Anthem of South Africa is followed by the famous "shosholoza", if this song doesn't move you then you must be a distant cousin of Chemical Ali. Beats to Chariots of Fire play until you hear the cock crow followed shortly by the gun and its party o'clock. The journey has begun. Destination; Iconic Moses Mabhinda World Cup stadium in Durban, Distance approximately 56 miles (90kms if you love The Queen that much), time; well does it even matter? You still have to cover 90kms.
Since its 90kms there is nothing interesting worth your note, I will stick to the highlights. The first 10kms are run in pitch darkness as within 3kms you're out of Maritzburg. Never in my dull life have I imagined myself taking up night running (at least not on the spot) as a hobby, but here I was. Running along the main highway to Durban the trailers and cars are hooting and occupants reminding you, it's your funeral with 'see you in Durban" as if its 2kms away. The pace here is kept at the pace of runner ahead of you, I and John try to indulge in a conversation to try and forget what we are doing. The temperatures tend to dip as distance increases and the body can't seem to warm up. First encounter is the Pollys, on the up run; these section a very steep hill which hits you when it hurts most 79kms. And they are always kind enough to remind you that Comrades up run is not done until you go over Pollys. This part is run with minimal problems although the cold can't go away. I rarely run with a jacket but I kept my top until well over 35kms before it met its maker.
The 2nd of the big 5 hills is Inchanga and clearing it will leave you well over 35kms and approaching the halfway mark of the run, but calm down first the hill is almost 2km and once you are done and steps up Drummond, the 3rd in the sequence and almost after Inchanga that you won't realize you've actually ran almost another 2kms in between. Drummond is a nasty hill and at the top of that seats the Arthur's seat. If you're wondering what the heck that is, Arthur Newton is a Comrade's legend who won the run 5 times in the 20's. Runners stop there to say "hi" to him drop some flowers and hope it brings good tidings for the second half of the run. 150 meters from Arthur's seat is Comrades Wall of Honor with the names of many comrades' runners past and present who have gone for the great ultra-marathon up above. Of course you stop here to waste a few minutes. Needless to say I never saw the two during last year's up run but since this year was a leisurely stroll, I wouldn't miss it. What follows is almost a flat that leads to the bottom of the 4th hill. Botha's hill and on top of it there is a huge crowd, the hill is almost a km or so and at its apex you are staring at the Devil's Valley of 1,000 hills. At this point you already have 60kms on your legs and only liars will say the body isn't tempted to give in. A boy stands on the side of the road with a big placard "Fresh legs on sale" on it. It's one of those moments where you clearly know that the devil is a liar but you still want to ask what lie is in stock today. There is no time to gaze on the scenic hills; after all you could have gone to the Aberdares for that.
The Comrades down run starts after 60kms where you have to run almost downhill for well over 20kms. If you ever thought running downhill is easy, try it with 50+kms on your feet, it's damn painful and it's no surprise that I slowed down to the 7mins per km bracket. The initial strategy was walk-run on the hills and recover on the flats and downhills. I know better now as I couldn't wait for the next uphill so that I run. The bones are almost falling off your quads and you can only just spend the next 20kms stopping at every water point, enjoy the soft massages on your legs, take more water, energade, bananas, oranges laced with salt(pathetic taste) and everything on offer. Before you know you are staring at the last of the 5 hills, Cowie's Hill and you ran up it, on top there some lasses are holding a "what the hill" poster on their hands and when you are just about to stop and appreciate the Almighty's handy work on them, they be like "no walkers on runner's shoes". At this point you can only pray that their souls be blessed. Scratch that, I lied. I waved them the one finger salute in my head. The end is near but even the mind has given up. With some 15 or so kms to go I meet a guy who had been running with his crutch, I was later to read his story of how he had planned to run with his prosthetic leg but his leg had developed some wound and he had to do it with a crutch. The organizers had allowed him to complete the run in 16 hours which he did. There was another guy who ran on his wheel chair with the assistance of his long term friend but am not sure whether he finished. Even in one's tiredness you can't help but stop and applaud these heroes before leaving them to their battles as you fight yours.
The last few kms are uneventful but most of the water points are deserted as it has been a long day even for the supporters along the way but everything you need is available. 2kms to go the finish point can be seen from a distance and the crowd and noise is getting louder as the runners summon the last ounce from their reserves to get to the stadium. At 1km to go you can see the face of the stadium full of splendor and you can't wait to embrace its grace. There is a big bill board with "ASIJIKI- There is no turning back now" just before you enter the stadium and for sure where can you turn back to.
Once you get to the stadium there is a huge cheer and on crossing the finish line you get your medal and you are led into the tunnel, we are made to walk another long 200 (k) meters before getting the desk where I collect my back to back medal. You can imagine the number of times I asked around where the desk is just in case I missed it. That distance was very long. In between there were tents offering soup, but in my mind I was just wondering, Soup for who? My mind was fixated on one thing and one thing only; the 18 beers waiting for me in my hotel room. Actually that's what I had been thinking about for the last 30kms if not more. The walk up those stairs is torture and once we sit outside the Stadium waking up to walk to our transport was another 90kms. We find ourselves in the hotel room and the party starts. You don't sleep after comrades rather you roll for a few hours in bed and then catch a beer. That happens until sunrise. And for another 24 hours.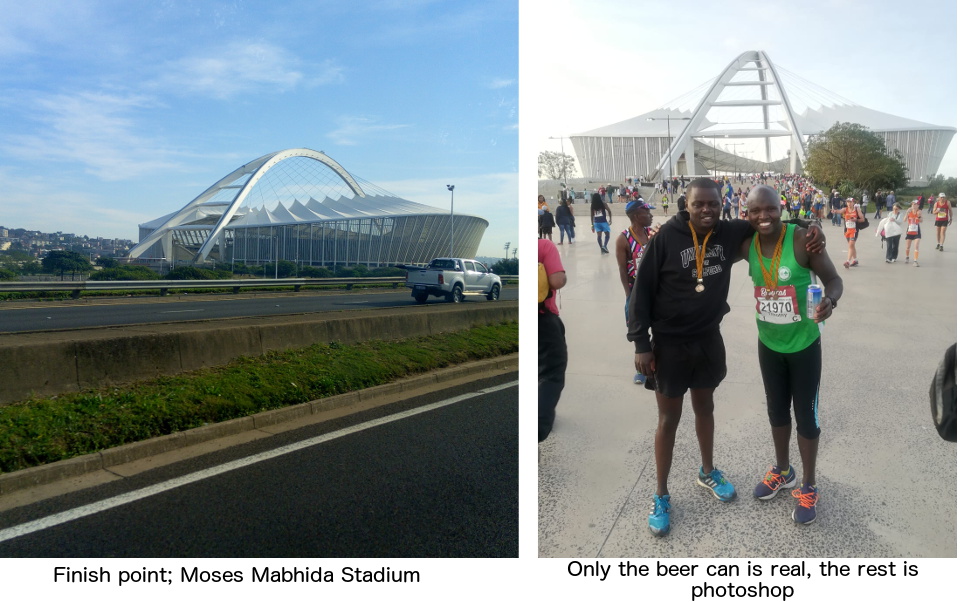 The Monday after comrades is always World Penguin day in Durban. All funny walking styles are on show and even the mighty do it. A few stretches helps abit but all in all every part of the body is aching now. But we are well reminded that's what this run is all about. Respect. Not that our bodies are weak or there is anything wrong with us. If Comrades teaches you nothing else, at least it serves humbleness in appropriate portions and hence its name, The Ultimate Human Race. Or as they say it there. Izokuthumba, it will humble you. Every finisher has their Comrades story and One of Tata Nduku who completed it with more than an hour and a half to spare at the tender age of 60+ captured the spirit of the comrades. Not forgetting the other senior citizen James Wahome, who is always all eager and ready to remind you he is on retirement holiday during this runs. Unlike some of us who ran comrades to get capacity for more beer they did it for very noble causes; support them in whichever way you can. All I want to do in my life is run like them at their age. Comrades is about ordinary people doing extraordinary things. They represent this spirit in every facet.
With back to back now in the bag, I will not say never, but it's not happening again any time soon. Focus now shifts to more fancy sports like, yachting, canoeing, fishing and bird watching and may be learn how to use Instagram while at it, not this running after the wind shenanigans, which even the good book warns us against. May be I might have to wait for slay queens to start wearing Vitenges to weddings and stop dancing Kwangwaru on table tops with their heads on their tails or tails on their heads, may be then we can have the conversation. Now that's for sure is the beer doing the talking. See you when we can't avoid, most probably on the trails although I prefer it to be in a bar.