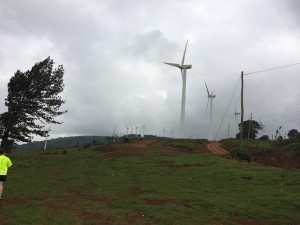 Ladies and Gentlemen, this is your Captain speaking. We are approaching Jomo Kenyatta International Airport, it is a beautiful morning with clear skies and temperatures of about 28 degrees and if you look through your windows, you will see the beautiful undulating, Ngong Hills, which , means 'knuckles' in Maasai.
This is the soothing Disneyfied sound of every Kenya Airways captain as you land in Nairobi.
It is Saturday afternoon and I am standing at the base of the rolling hills, the imposing wind turbines dot the hills and I am certainly not soothed and I am downright terrified. What I thought was a great idea, is turning to a very scary experience. Yes, folks I took up the challenge of the (in) famous Ngongathon. This involves running through 7 hills and it is approximately 14 kms. I have hiked up these hills before, but running is a totally different thing and yes, the run began from the bottom of the hill. "I should have just sucked it in, woken up early and gone for the Kiambu run," I grumbled. "What did you say?" one the runners asked. "Nothing!" I said and sulked as I warily looked at the hills ahead and barely listened to the instructions of the organizers and I wish I did as it led to a series of unfortunate events.
So this was an invitation from the Nairobi Hash Harriers , the Urban Swaras friendly foes and it turns out this is one of their famous runs and we had our elite Swaras at the run. So it came as no surprise to see Ajaa, Loise and Wahome.
The run began. Now those elite Swaras have V Power for blood, while rest of us John Does are on cheap watered down fuel you get in the back streets of River road, because immediately we were waved off, they were gone. While I was huffing and puffing like an old unserviced car, our elite were steadily moving and making themselves the poster child for V Power complete with the marketing anecdotes V Power , helps keep engines fit and strong, or the very obvious one V Power,Extra Zip Extra Vroom. My engine was certainly not fit and strong and the elite had zipped and vroomed off and all I saw were their brightly colored running gear dotting the next hill as I struggled with the first hill.
Ngongathon is not an easy run, and the weather on the hills is unpredictable, it can easily change from clear skies to cloudy and dreary in minutes and this was one of those days.
So I steadily huffed and puffed away, and as I struggled I got my first pearl of wisdom from a fellow runner, who was equally struggling but still had the strength for some humor. "Run like you are avoiding a gunshot, you know, zig zag!" She said with a dead pan look and went ahead and tackled the hill from left to right. My miserable attempt at laughing was a painful wheeze and I followed her instructions and I conquered the first hill and all I could think of is more to go.
As I had said earlier, I had hiked this hill before and passing the places I had taken a break for snacks and enjoy the view was sheer torture. Reminiscing it made me feel more hungry, miserable and rather grouchy… and I passed it without stopping.
Now due to demonstrations taking place in Corner Baridi, that day, we were advised by the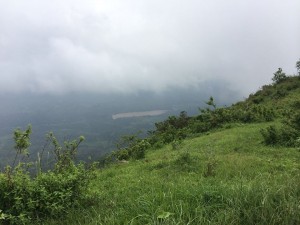 rangers not to run through all the 7 hills. We had to run through 5 hills, and turn back to Ngong town. So the seasoned Ngongathoners, acknowledged that this was a harder run than completing the 7 hills.   I made it to the 5th hill and on the way back the entire hill was covered in fog and that is when I wished I had paid attention to the organizers , as I took the wrong turn getting back to the beginning of the run. As far I was concerned I was going downhill and that's what mattered, I had already paid my dues to the hills and there was no way I was running up again, until I saw livestock and homesteads…. "Hmm I don't remember seeing any homes on the hills," I mused. Good thing I was in company and we unanimously agreed there was no way we were going back up the hills.
So we continued running, passing homesteads and at some point quite temptingly considering going into a homestead, looking genuinely haggard and asking for a plate of food and possibly a ride back to Ngong. It turns out we had gotten ourselves in Upper Matasia, which is about 5 kms a head of where we began the race. Upper Matasia is a rural town and after seeing a clearly marked road sign with an arrow point to Dave's Grave, I knew I was in trouble. This was country! And there is nothing as bad as dealing with a country bumpkin. Thrice I learned the hard way as I ran trying to get the right way back. One thing is certain a country bumpkin has no sense of distance. " How far is Ngong Town?" I asked , and one good Samaritan , bless him , pointed out, " ahh it's just here." This energized me to continue running. 'Just here' was actually several kilometers from Ngong. Next question to country bumpkin number 2, "How far are we from the main road?" To which we got an incredulous answer, " you are on the MAIN road." Swaras, we were on a macadam not tarmac road. But the one that made me make a final decision to live Countryville, was when I flagged down a boda boda   and asked, " How far are we from Ngong Police Station?" and he flippantly said, " It' in Ngong!" I was too tired to say anything and I waved him off. Dealing with country bumpkins is hard, I even gave him a land mark and he still had no sense of distance!
It was at that point I flagged the next boda boda hoped onto it and rode back to the starting point. By then I had done   14.3 kms, I was hungry, cold, excited that I had conquered the hills, incredulous at how narrow minded people can get. It was a worthwhile adventure. Will I do it again. HELL YEAH!!!