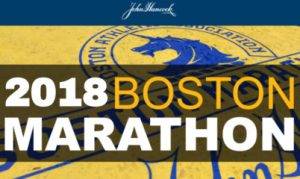 The day was Monday, April 16, 2018 – Patriots day' in Massachusetts and I was here for the Boston Marathon 2018!
It was rainy, wet, cold, foggy and windy! The 35th Kilometer marked the end of the mythical heartbreak hill. The hill itself is not horrible, but it does come at a point the runners are already too tired from the previous series of undulating hills and is therefore a real heartbreak and if you made it through with your heart intact especially in the extreme weather conditions of this day, then you knew you were safe. Why didn't my heart break then? Even I don't know -I think it was not even capable of being broken as it was frozen, or so I think, because I simply couldn't feel it! I was extremely tired, numb and my mental faculties had shut down –at this point, only my legs were semi-functional; they remained in some form of motion and somehow kept moving. I wanted to stop but stopping appeared more lethal than moving…so the legs chose the lesser of the two evils and agreed to defend my patriotism and fight the Sub 3 war to the end!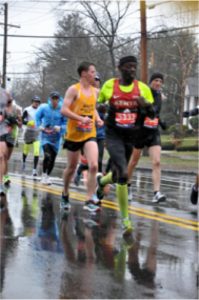 At the summit of Heartbreak is this huge Church of Saint Ignatius of Layola that also marks the beginning of the downhill back to the city for the finish. You see it, you are happy the infamous heartbreak hill is all behind you. I can't even remember how I got to that point. There must have been so many moments I ran half-conscious, like dream running. The thought of downhill at this point would offer some relief but the quads and hammies were so done. At the 40th Kilometer, I managed to glance at my watch. I was still at an overall pace of under 4:10. My confidence picked because I knew at that pace and with the distance left, I would break 3 and validate my dream. However, my body was sore, and the weather had conspired to trash my dream. My shoes and clothes were wet, I had lost both inner soles by the 10th Kilometer and my forehead felt like it had developed a series of bumps from the various hits by the ice-cold rain drops. I honestly can't tell what happened during the last two kilometers, but I miraculously found myself at the finish line, shivering like a leaf and holding on to a rail for support.
Voila! within a time of 2.58.08, the job had been accomplished! Shortly, I was on a wheelchair headed to the heat tent! I just saw one and sat on it. God bless those first aiders, totally soaked in rain and sweat (did I even sweat?) I was shivering uncontrollably. It was difficult to hydrate along the way as the water was ice cold, visibility was poor, and movement was somewhat directionless-what a brutal weather! There is no other way, no other word to describe it… Oh but, come on! ALIVE with the medal in hand and a SUB 3 achievement in such brutal weather, what more could I ask for?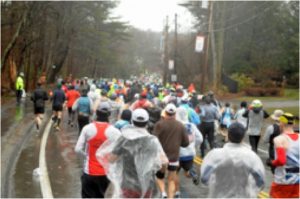 See, towards the end, there was hardly anyone to cheer me on, the crowds had scattered, the weather stole them away from us, we needed them, you know what I mean… but then again, how on earth would they withstand such harsh weather conditions! Well, I guess they were not as crazy as the runners. But at Kilometer 37 I wasn't completely out of luck with some cheers …a fellow runner approached from behind and cheered; "keep going brother, we are almost there ……" that was refreshing. I had begun to slow down almost to a halt. I suddenly felt amazingly strong and this pushed me to the end. There was a water point at the 40th Kilometer. I was thirsty but couldn't hydrate, the water was ice cold, the lips were locked, my hands were frozen- how would I have done it? Just about the 42nd km mark, I tried to take out my favorite Kenyan flag, tucked in a carrier belt, which I usually do towards the finish line as a patriotic gesture and even that, a simple one second job, I couldn't pull off- everything was just hard, or was it impossible? I think impossibilities temporarily checked in…
Back to the finish line, I trembled, I was cold and in pain …I was quickly wheeled to the heat tent and offered a hot drink –I think it was some form of hot mwarubaini, it felt like a miracle drink. The first aiders got off my wet clothes and wrapped me in thermo films eskimo style. It felt great in there-warm and comforting. However, my stay was very short-lived. You get stable you are discharged quick quick to create room. The tents were full and there were many runners in need of help. As soon as you are off the danger zone, they' d ask you to give room. I refused, yes, I told them that I wanted to stay longer na nikakatalia blanketi (refused to give back the blanket). Long story short, my time was up- They took back the blanket and forced me out. Left without a choice, I gathered some little charge from the hot drink and warmth of the tent (I think my battery was at 5%) and headed out to the left luggage in the thermo film wrappers – I collected my luggage, changed into some warm and dry clothing and set off for the hotel. I was lucky to be alive and moving…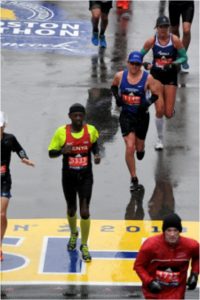 The journey began at about 4.00am when I woke up. I put on my racing gear and took breakfast at the hotel. I packed a chapati and some gels to fuel along the way. David Thuo (a.k.a Captain) and I were staying at different hotels and were to start in same Wave but different corrals. David offered to back down one Corral, so we could run together, how kind! It always intrigues me how these marathons manage to sort out 40,000 runners in some seamless flow. Boston uses school buses to ferry runners to the start line because the start and finish are far apart. This historic course starts at the outskirts of the city in the rural New England town of Hopkinton. I picked my assigned bus to the start point and got to the start at about 7:30am. It was cold and wet from the previous day rains, but it wasn't raining. It had been predicted that the weather would be severe but at this point, it appeared manageable- after all we had ran in darkeness, rain and mud in Ngong, Kahara on several occasions – we would hack this, nani kama sisi? (Who is it that is like us?). Runners were gathered and clustered together to keep warm in tents as we waited for the call up to the start line. There were plenty of warm drinks and loads of food. Coffee, bagels, Bananas and I had my Chapo. I traced Captain just near the entrance of one tent and joined him. We were upbeat. Kujichocha nayo? Even in the cold shivers we managed to stay positive. Who knew what awaited us? Mama was not there to give us the signal…. Mama, why didn't you? where were you Mama? Oh, but wait a minute! I think mama had sent the weather man, but I didn't listen. I had been advised to wear a cap and dress warm with water proof gear. I had never run with a cap before, so I brushed it off and my running gear was far from it! Next time, I will listen… I paid dearly for this omission.
The gun went off at exactly 10am and we set off happy, each one of us for him/herself and God with us all- we had our individual goals, we were optimistic. We started off and ran together with Captain. It had rained the previous night, so it was extremely wet and cold but at this point it was not raining. My shoes were already so wet and soggy. Just before the 2nd Kilometer my inner soles started to edge out. At first, I got so scared because I thought that the outer sole of my shoe was torn. I was ready to run barefoot- kidding! how? I stopped briefly, asked Captain to carry on as I put the inner soles back in place. At the 5th Kilometer, I stopped again, you know what, even Eliud kipchoge ran without inner soles in Berlin and won. I removed them. I continued, picked up some pace, and caught up with Captain at about the 10th Kilometer. By this time, the rains were heavy, the wind and the cold were extreme and generally, the weather was increasingly becoming unbearable- we could hardly speak and or see- Captain would often ask me, unaona? (can you see?) and with my lips locked together and quivering, I would mumble back, hata mimi sioni (even I can't see) – it was foggy and visibility poor. We were talking like we had just had one too many. Yaani, the lips felt like you just came from a dental situation! Other bodily places I won't mention here felt like they disappeared, frozen to extinction. We had some headgear which had become so wet and heavy so we both like in unison decided to throw them away. Little did I know. The ice pebble rain would hit our bare heads with such force that concentration and focus became an issue. However, armed with faith that we could still make this, we matched on. I separated with Captain just before the 20th Kilometer mark, and we each continued with the race independently. He had stopped briefly to what I thought was a shoe issue.
The race starts with a sharp downhill and gets into undulating uphills especially in the second half. We had done a route recce the previous day and, on the bus and wearing the Kahara lenses, it appeared fairly even. It is a totally different story on foot and more so in that hostile weather! The first half was not too bad, but the second half was what the Chinese would call "mafan"- meaning real trouble! The race got technical. The organizers had their job cut out and they did a good job. There were Medical tents at every mile and medics were quick to attend to runners. That was comforting- at least I knew that I could check in in any of them if it became unbearable. There were also pockets of crowds cheering on, but they dwindled as the weather made its way. The cheering, especially the mention of Kenya from my Tee, even though intermittent, kept me going. Some kind runner, a Japanese (I am always hitting out with Japanese during races) gifted me with a running head band which partly shielded my forehead from the pounding ice cold rain drops…I'm so indebted to this fellow!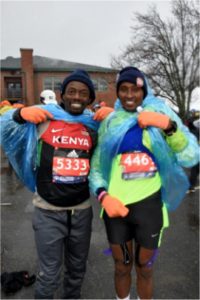 I was well prepared and had trained well for this race. Three months intense training to be precise. My body had become accustomed to 4am daily wake-up calls to join fellow runners at Heron Court for runs that would start at 5am. Ngong (Kahara) had officially become my home. I know every turn and bump on that Kahara – corner baridi route. I even know of the number of plots on sale here in case anyone is interested. "Buroti maguta maguta" (really nice plots). Such a Kikuyu. I would go there once a week and run distances of 32-35Kms averaging 90Kms per week. At some point, in February 2018, I sustained a glute injury from the infamous Kimunye run in Kirinyaga. That took a while to heal and I had to slow down for a few weeks. For strength, I choose a weight vest of 7-10kg. I would run with it every so often for distances of about 15Kms. This, I believe, built my core strength and helped release some body weight to achieve my targeted weight by the marathon date.
I did fluorspar twice, yes, in February and March, topping my stamina. Fluorspar is hard but necessary, if you can do it, you can manage a PB anywhere!
My target was a sub 3. It was no secret. My reputation was on the line. I had talked about it to anyone who cared to listen. Pressure was on. I trained hard for it and did everything that I believed would help me in achieving my target. I didn't expect bad weather and I'm grateful that I still made it despite the bad weather. Training for a marathon is never easy especially when you have a specific time target in addition to finishing the race in good form. You will receive a lot of advice and read a lot of different literature on how to run better and achieve your target. However, from my training and experience during and after the Boston Marathon, my take aways are:
Focus and Consistency- it is not about complicated and fancy training plans, featuring intervals, repeats tempos etc. I am not trashing the science of running but just run day after day, week after week at a level where you never get injured. It is all about focused and consistent training.
Discipline- Even when you don't feel like it (unless injured), just get up, lace up and get moving.
Learn to use different gears while running – caps, jackets, layers etc. in the event of a bad weather. I wish I had learnt how to run with a cap and gear up for the Boston run- I need to side chat Felicita, she had a mwakenya on the dress code
Identify the areas to work on during your training e.g. weight, strength, hill work, speed etc. – each one of us is different and what works for one person, may not work for another
Believe in yourself, don't give up, keep training and you will achieve your goal- I started off as a half marathon runner, I never imagined that I would ever do a full marathon. My first full marathon attempts 8 years ago, back fired. I checked out of the race at the 30th kilometer; I did the 2nd Marathon in 2015 at a time of 3.48……. and on on, I kept improving my time and now by the 7th marathon, I have achieved a sub 3!
Identify a team to run with if possible- running with people with a common objective keeps you motivated even when you don't feel like it!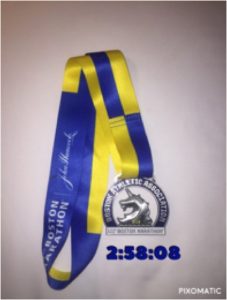 I wouldn't have made it without the support of others: my family, Heron Court team, my colleagues at work, the Physio team, all my friends and well-wishers. Special thanks to my Captain and Boston training mate -who even after a very painful race, came personally to my Hotel room in Boston to congratulate me for achieving a sub 3 in the harshest of environments, Asante Sana Captain! You are my hero! Felicita, you went out of your way to make Ugali sukuma for the dudes a day before the race. That must have been the best Ugali I have ever tasted, asante. To all of you, I'm sincerely grateful – I could constantly hear your cheering and words of support all through the race…. we journeyed and did this together! Thank you and God Bless!
I achieved my Sub 3 goal and I'm DONE chasing time. Going forward, I will take it easy and enjoy my runs…On to the next race…..