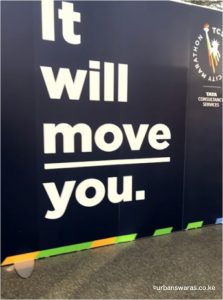 When they said the New York Marathon 'will move you', I did not think it literally. It's taken slightly over a month before I could get the right words to caption my experience. When I reflect back on my journey to the Big Apple, I realize this movement started way back thanks to role models like James Waliaula. When you have a dream to conquer the big races, one needs to make a move. So I balloted for the Big Apple but failed in the ballot process and my next move was to try the other several options available. My confirmation came through a sports tour company.
Training? With four marathons under my belt, I had an idea on training. But this was different, probably due to its magnitude even though the distance remained the same. And there was the strong desire to hit a sub 3 here since my past three attempts had failed miserably. This time the training had to be right. A slight screw-up and that's the end; from injury to missed flights to loss of baggage with running gear. These are some of the nightmares runners go through. The training started on 17th July. During the first week, I totaled 39km which was inclusive of a 15km Saturday run with the Swaras at City Park. Not something out of the ordinary, but something to point out where I started. Pace was moderate and the plan was to build my endurance gradually for the next four weeks before embarking on the hardcore runs; Hill work, Speed work and tempo runs. The four weeks ended with the weekly mileage exceeding 80km, with the last Saturday mileage getting to 30km.
It was time to embark on the hardcore runs. I recall several times when I had to wake up and knowing the day was meant for speed work, I'd wish I could get some excuse to sleep a little longer or just avoid the work out totally (this is where guys would go, kumbe Davis is human like the rest of us). However, when the thought of the New York Marathon flashed through my mind, I would get on auto pilot. My body automatically adjusted to the 4am alarm, and by 5:15am I'd be warming up. The great feeling would come when it was all over. This would be repeated every week for the next 11 weeks. The Saturday long runs were not easy, with work outs starting as early as 6am thanks to my training partners David Thuo and Jack Ndegwa. These guys literally made the pain more fun and enjoyable with paces out of this world. Without going too much into detail and for you to get a feel of some of the Saturday long runs here they are; Karen 25km at 4:30mins/km pace, Iten (high altitude) 40km at 4:30mins/km pace (ouch! that was a hard one), Mt Kenya "Ultra" 35km at 4;43mins/km, Kahara 30km at 4:26mins/km (one of my popular training routes), Fluorspar with 1577m elevation gain, 40km at 5:37mins/km (I still don't know how I achieved this). In total I covered 1,350km over the 16 weeks. For those wondering where I am going with all this, read on. For those who have queried what my training was like, that's part of the story.
5th November, I'm wide awake one hour before my alarm is set to go off. With some sense of nervousness and the clocks having changed backwards by 1 hour at 2:00am (each year, in the wee hours of a Sunday morning in March, 60 minutes vanish from the clock and the time reappears each year in November! No, it's not a magic trick — it's Daylight Saving Time!). I couldn't help thinking; what if the race started without me because I overslept? Not happening. Sleep could now take a back seat now that the day was finally here. I hit the hot showers, stepped out of the hotel into the cold New York streets to catch my first breakfast (don't ask why the hotel wasn't serving breakfast –welcome to New York where you pay for everything). I had planned to have breakfast twice with two hour intervals since the Marathon was starting at 9:50am and I was awake by 4am (my body was still on auto pilot mode, apparently I'd wake up this early even on Sundays). Once done with my first breakfast, I went through my marathon checklist. Kenyan flag bandana-Check, Proper socks and shoes on-Check, Vaseline applied-Check, Elastoplast-Check, Check, Check, Check…
I was good to go. It must have been less than 10 degrees Celsius as we walked with other runners from the hotel lobby for about 10 minutes to board the ferry that would take us to Staten Island. Arriving at the ferry terminus we were greeted with a sea of runners also trying to get onto the ferry. You couldn't fail to notice the law enforcement officers draped in their blue uniforms and the event organizers (who are volunteers). The level of organization put in place with the sheer number of runners is impeccable.
We arrive at the start area in convoy of buses, and one is easily moved by how big the event is. The clearly marked signage directs one easily to their respective corrals. The marshals not allowing entrance into a corral not designated to you. Music is blaring from the clear and quality speakers with interruptions from the MC giving directions to runners in various languages. "This is it!" I remark to self. No turning back. Months of preparation have reduced to 2 hours of waiting time. I know guys at home are trying to finish their errands before they settle down with their phones and other screens to follow the event. I grab my second cup of coffee for the day and with my well preserved homemade chapatis, I carbo load away.
The gun for the first wave goes off, one is literally moved to see the runners in their thousands. You can be mistaken to think that these are all the runners. But there are two other groups starting from a different area all in the first wave (if this is confusing to you, It was confusing to me as well at first). It took me 4 minutes before I could cross the official start line and another 5 minutes before I could start running at my target pace. The New York Marathon is huge to the extent they have three different starting points where runners in the same wave start simultaneously and will then run their different routes before merging at km 5. If that does not move you…read on.
The first few kilometers, are brutal. My run is characterized by dodging other runners and running behind runners of similar pace to avoid head winds (don't blame the player, it was too cold and I was in a singlet). This was not a conservative way to run, I realized later (my Garmin recorded having done 43km) but in a way it helped. The harsh conditions slightly improved as we went through Brooklynn and I was well within my target pace. The cheering becomes deafening, spectators have poured onto the streets; men, women, kids, musical bands, the atmosphere is eccentric. I'm overwhelmed and increase my speed thinking the race is about to end only to check my watch and the reality is I've done only 10km. I realize I'm only used to such large cheering when about to finish a marathon. I moderate my pace and move on.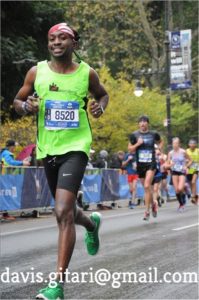 I'm not sure at what point I notice the sub 3:05 pacer ahead of me and thinking it must be a mistake, I was on sub 3:00 pace! "Is my garmin playing tricks with me?", question to self. To confirm I was in the right pace, I had to wait until I got to the halfway mark. The Sub 3:05 bus was now behind me boosting my confidence. My doubts for a sub 3 were eliminated when I crossed the half way mark, at a time of 1hr 27mins. Great! I was well ahead of 1:30 by 3 mins. The aim was to maintain this pace, with a worst case scenario of running positive splits of 5-10 mins within the next half. I can't recall my time at 25km, probably because I just wanted to get to 30km before I could correctly predict my time again. However, things started to slow down immediately after 25km, at the Queens Bridge, where my pace declined due to the steep climb getting over the bridge and also the quiet atmosphere. This is where I felt my body shutting down. I could do with the kind of cheering I had at 10Km, it makes a big difference. Suddenly, from behind me, I heard someone shouting "Kenya, Kenya, twende" (Kenya flag bandana on my head), who was this guy? Could it be an elite who started late… before I knew it, the guy just disappeared ahead of me like I was stationary. However, he stirred some encouragement and made me push harder. I later learnt he was a Kenyan runner who was placed 17th (the guy actually started in wave 2 and is not an elite).
30Km mark, time is at 2hrs 3Mins. "I just need to finish the next 12km in slightly less than one hour", I said to self. "Will it be a miss or a hit?" I briefly reflected back to my first 15km which I did in 1hr 1min, but that was the FIRST 15KM. I was still not sure of sub 3 though my Garmin pace was still within a sub 3. Still, chances of the body cramping, asking for a bathroom break, or anything were imminent and beyond my control. The aim now was to continue moving, step by step, listening to the body, and pushing where I could. According to a recce we did in a tour bus the previous day, there was a mean hill waiting at Km 40, (it came earlier -probably because of the dodging of runners at the start). So my pace dropped at Km 38 and the next two Kilometers was a bit of a struggle. My calves started cramping up until the hill was done. The remaining two kilometers were blissfully covered without much effort, like something out of the ordinary was moving me. Probably it was the loud cheering from the thousands of New Yorkers who braved the morning chill just to watch the runners race to the finish line.