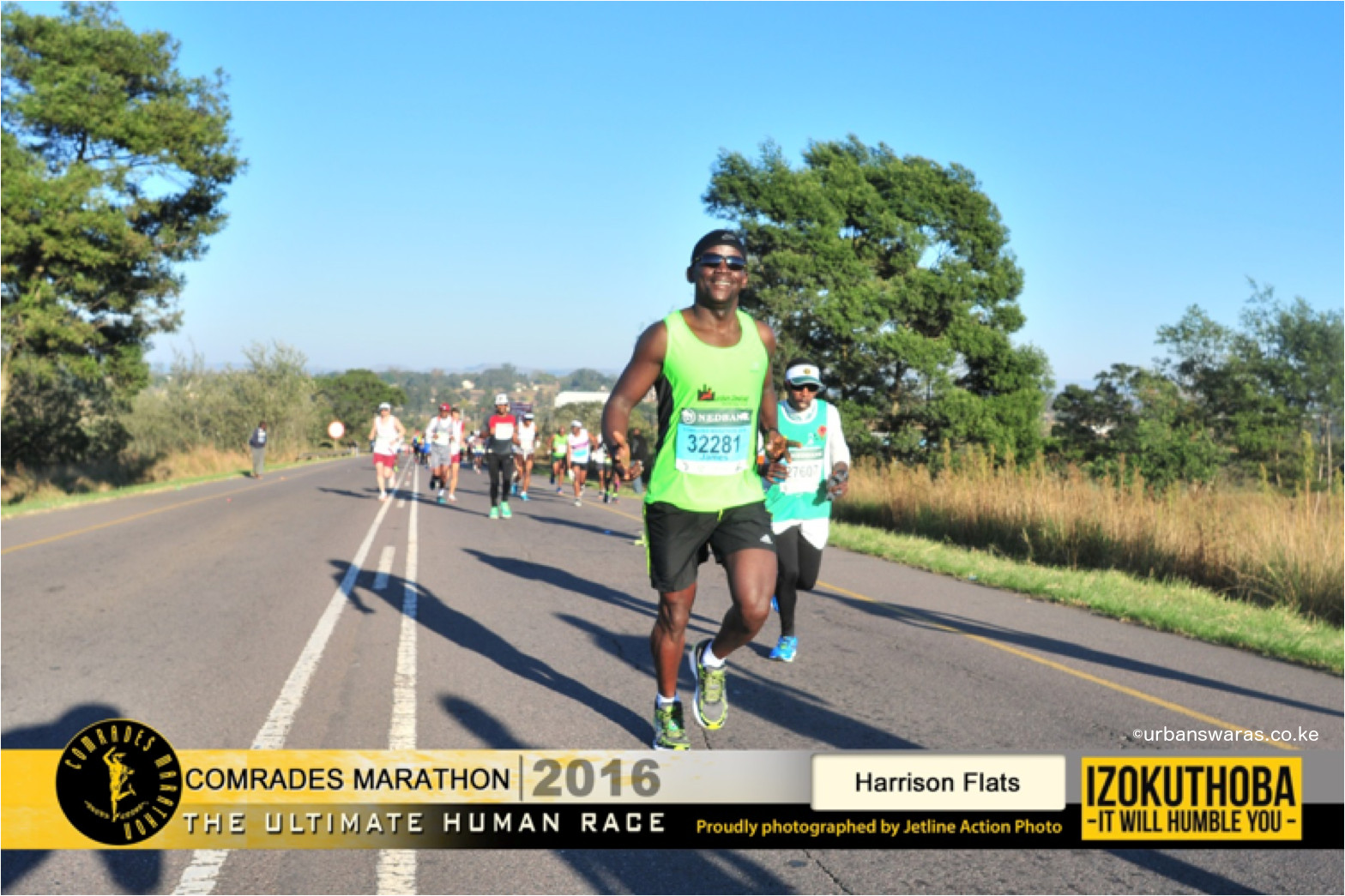 It has been billed by many as the ultimate single-day running challenge, bar none. Yours truly couldn't agree more after a firsthand humbling experience of running the 89km Comrades Marathon last Sunday. You have got to reach far and wide to find a race that can provide such a spectacle of the invincible power of the human spirit.
In preparation for the race, I had put in the hard yards once I comfortably completed a 60KM up and down run of the infamous fluorspar run, four weeks out to race day. However, nothing can prepare you well enough for a 90km run and as D-day approached, there was some sense of apprehension of perhaps being too ambitious in entering this race in the backdrop of my maiden ultra-marathon (Two Oceans Marathon), barely 2 months earlier.
Being a rookie in ultra-marathons, I had only a smidgen of imagination of what it takes to run ultra-marathons in succession and my game plan was simple; why not use Two Oceans as a dress rehearsal for Comrades? Without having bathed fully in the glorious glow of my maiden ultra-marathon, here was I ready to do battle once again, throwing running armchair pundits caution to the wind that the two ultra-races are just too close to each other to be ran back to back.
It comes with the territory that one will need to log in respectable mileage to run a good ultra-marathon and to me it made a lot of sense to take advantage of the training hours already logged in for Two Oceans, in training for Comrades even at the risk of getting an injury. In my world, one must throw oneself against all odds and face adversity head-on to discover one's real limits. And here, I couldn't have it any other way; I was raring to go and to leave the chips to fall where they may.
The buzz surrounding the race is palpable the moment you land in Joburg and you are bound to meet plenty of runners from all walks of life on the connecting flight to Durban. It has never been easier to strike a conversation with a stranger sitting next to you in a plane because on this flight, everyone seems to be a "Comrade".
"Maiden Comrades?" My seatmate breaks the ice with a mile-long smile. Clearly, the excitement must be written all over my face. "My first tour of Durban," I respond before my new found comrade goes waxing lyrical about Comrades Marathon lore in a heavy Mzansi accent that puts me into stitches. A veteran Comrades runner, Xolisa was heading back to Durban not as a runner, but as part of the support crew for his running club, commonly referred to as "seconding" in Comrades parlance.
The good vibe on the flight makes the one hour flight to Durban somehow feel shorter and we land in Durban King Shaka Airport before I could even correctly pronounce the name of my new buddy. Apparently, you have to be real good in clicking to crack classic Xhosa names featuring a C, Q or an X. It just happens that a good number of us on the flight are staying in the same hotel, and a bond has already been established as we hop into a shuttle to take us to our hotel along the Durban coastline. I check into my room already in a feel-good mood looking forward to the epic weekend ahead.
You have to give it up to Mzansi folks regarding the passion they put in their sporting events, be it running, rugby, soccer or cricket. The Comrades Expo is in itself one big party that almost grinds Durban city to a halt. All the world renowned sporting brands are in town for a big harvest because it doesn't get bigger than Comrades when you think ultra-marathons in the whole world.
Despite the biting early morning cold, the pre-dawn start line is a gripping display of its own kind and you know you are going to be part of something special when the locals set the stage by belting out a spine-tingling rendition of the famous Shosholoza song. This song gets me into a trance, evoking some good memories of my recent adventure in Cape Town and is my cue to switch into beast mode for the daunting task that lay ahead.
Seeded in corral A, I find myself standing behind the elite runners with the start line just about 20 metres in front, a good reminder of how far I have come as a runner. The mood here is very edgy as we wait for the countdown to begin. "Congratulations, you are almost there," quips a fit old man next to me with an amazing 19 Comrades under his belt (written on his running bib). I smile back at him surprised at his banter. Just before the gun goes off, it dawns on me that indeed the old man is right. Having covered over 2,000km in training for this race in the last 6 months, the real hard work had been done; I might as well try and enjoy the small bit standing on my way to glory, I figure as I press the start button on my Garmin watch.
I had done a good recon of the course and knew there were lots of climbs for the first 30km which I manage to cover on "manual mode" alternating between 4.45 and 4.50 min/km conservative pace. The next 15km stretch happen to be more kind to the legs and I switch to "Autopilot mode" keeping the pace consistent at 4.45 min/km until I hit the foot of the famous Botha's hill, 45km into the race.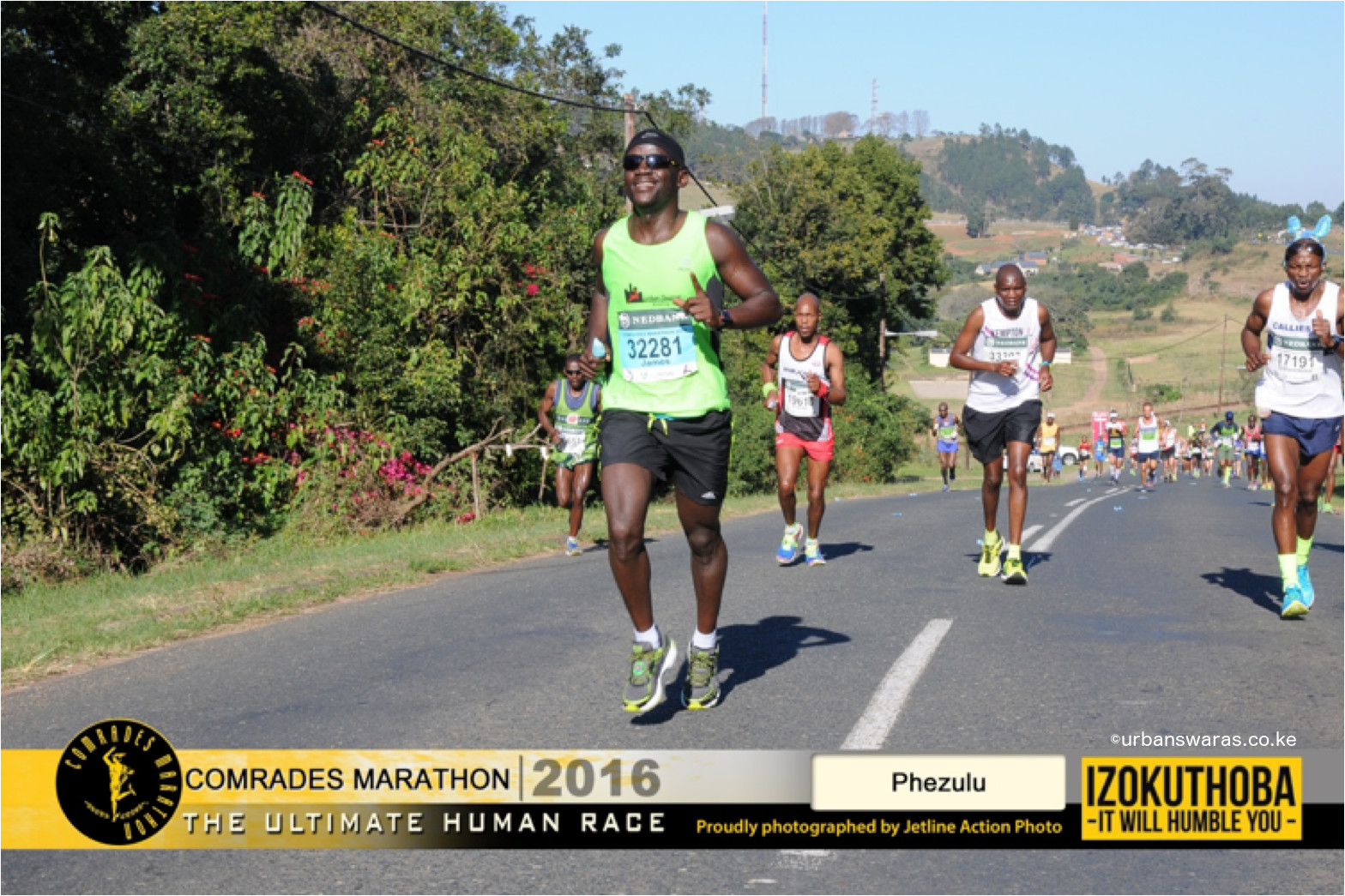 Here, one has to dig real deep for the 5km killer climb. I embrace the challenge by holding back a bit on the climb but keep it strong afterwards and bingo, the first 60km are bagged without much drama except for mild cramps. At this point, I reckon that I am in a new territory having breached the furthest distance I have ever run. The fear of the unknown makes me engage low gear taking a more conservative pace, once again.
A unique feature of the Comrades Marathon is that the split markers show the remaining distance rather than what you have covered, which I find very discouraging if you buy the line of thought that a glass is half full rather than half empty. And it's around the 25km marker that the race starts claiming its casualties but guess who comes to my rescue! From a distance, I hear people shouting my name and as I approach a tent on a road shoulder ahead, I am really glad to see Xolisa among the wildly cheering fans.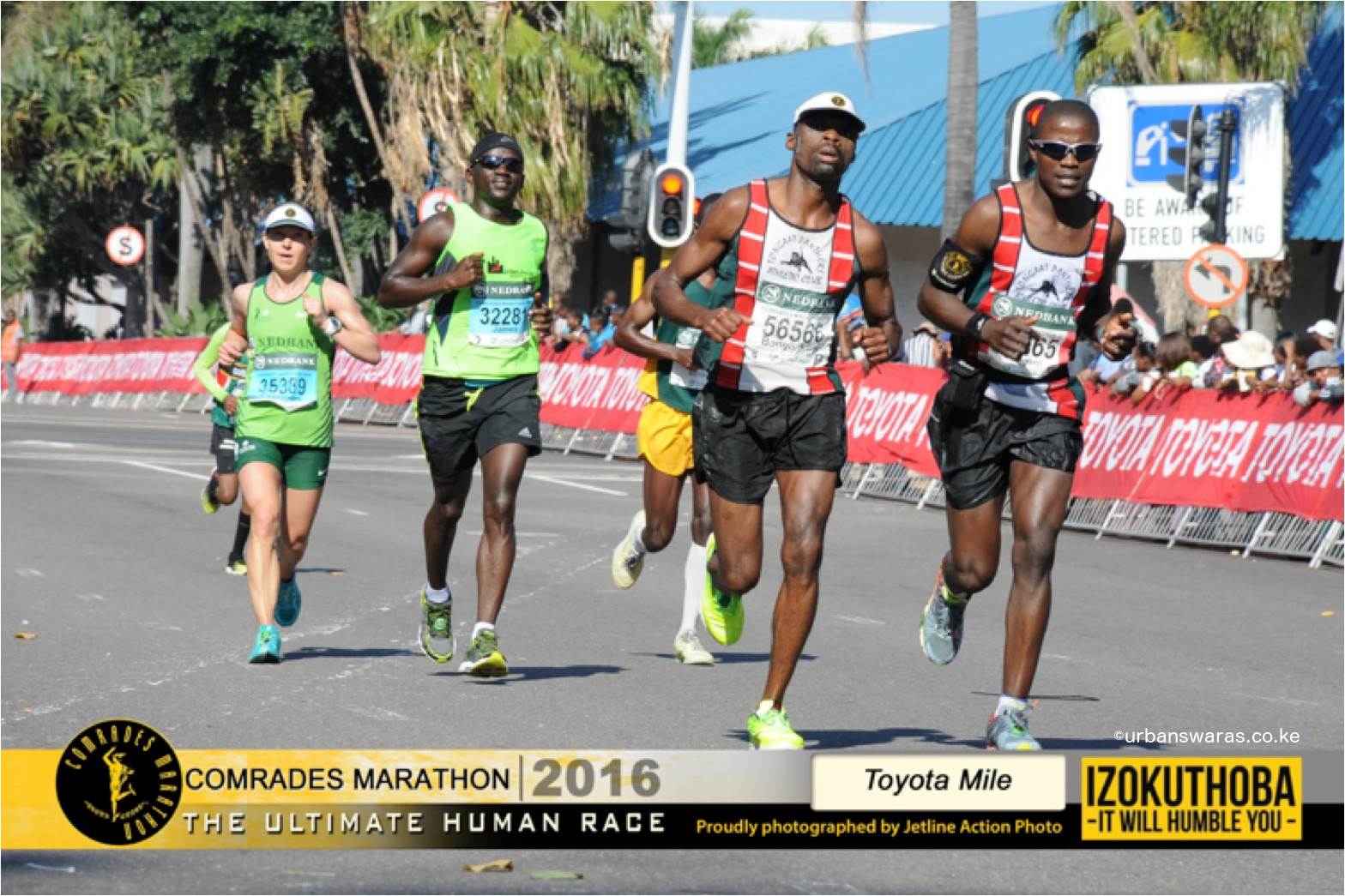 There is a carnivore atmosphere at this "pit stop" with an enticing brai (nyama choma) and other niceties all laid out for Xolisa's club runners to dig in before embarking on the most difficult stretch of the race. Mtukudzi's Todii is playing in the background and I had to gather all my wits to ignore the party here. After grabbing some gels and whacking some high fives with Xolisa and crew, my tired legs get a new spring and I pick up my pace.
Just like in Two Oceans Marathon, Comrades Marathon awards different finisher's medals depending on your finishing time. As I hit the 10km marker, I am still within the Silver medal bracket which means finishing the race sub 7hrs 30min. At this point, I reminisce a bit of how far I have come as an amateur runner and try to recall the last time I ran a distance of less than 10km. It must have been during last year's Naivasha Relay. I reckon that there is no way I was going to allow the remaining 10km to pee on my parade and I trudge on with determination anew.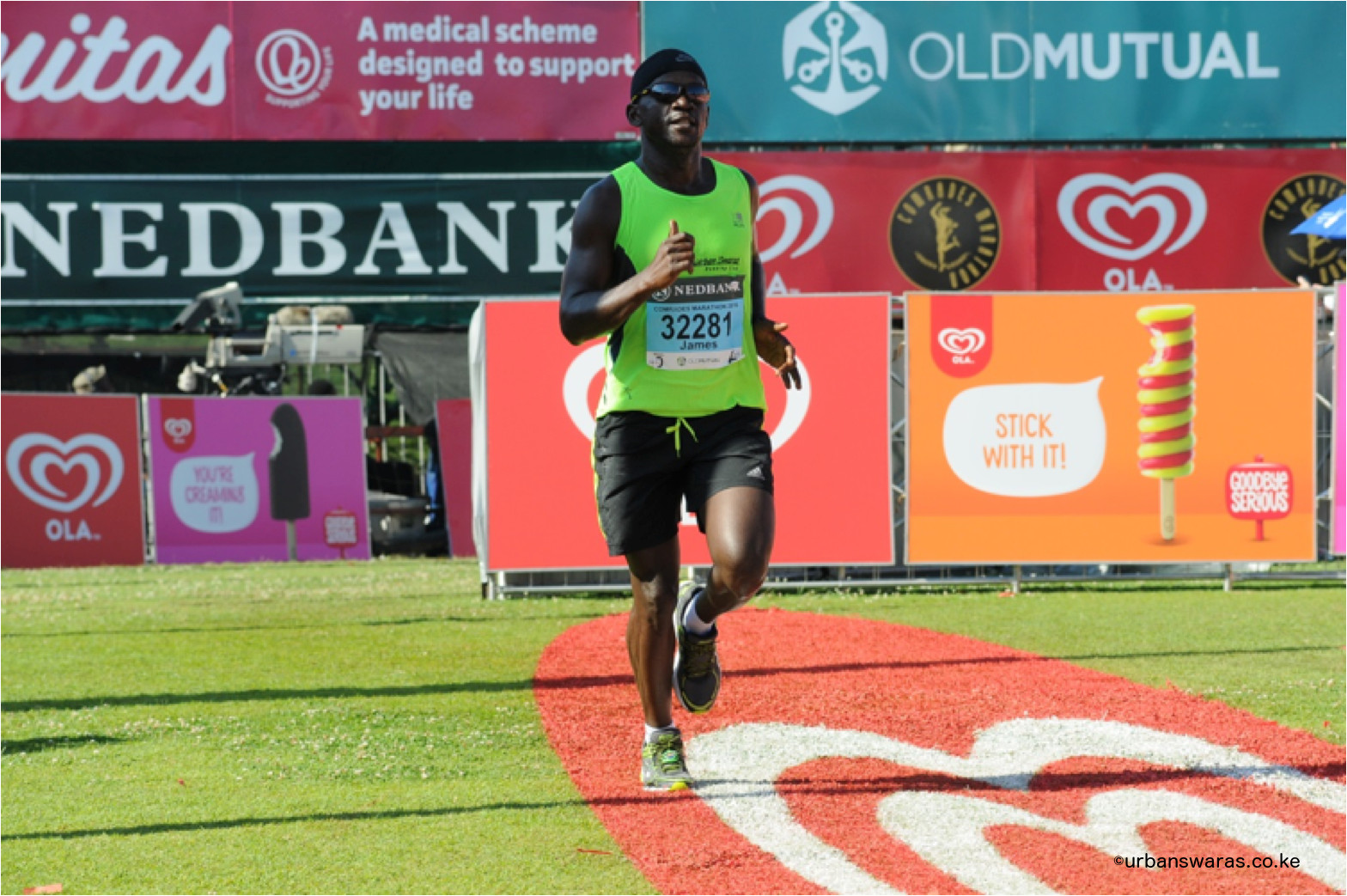 Giving the best I could eke out of my now heavy legs, I enter Durban to an arousing welcome with hundreds of cheering supporters lining both sides of the road. I recall a famous Comrades coach citing this to be the romantic moment of Comrades Marathon. The moment you realize that you are going to make it, even if it means crawling to the finish line. As I seize the moment and take it all in, my legs suddenly freshen up a bit and I can afford a smile as I sprint the home stretch crossing the finish line in 7.20.33, gun time.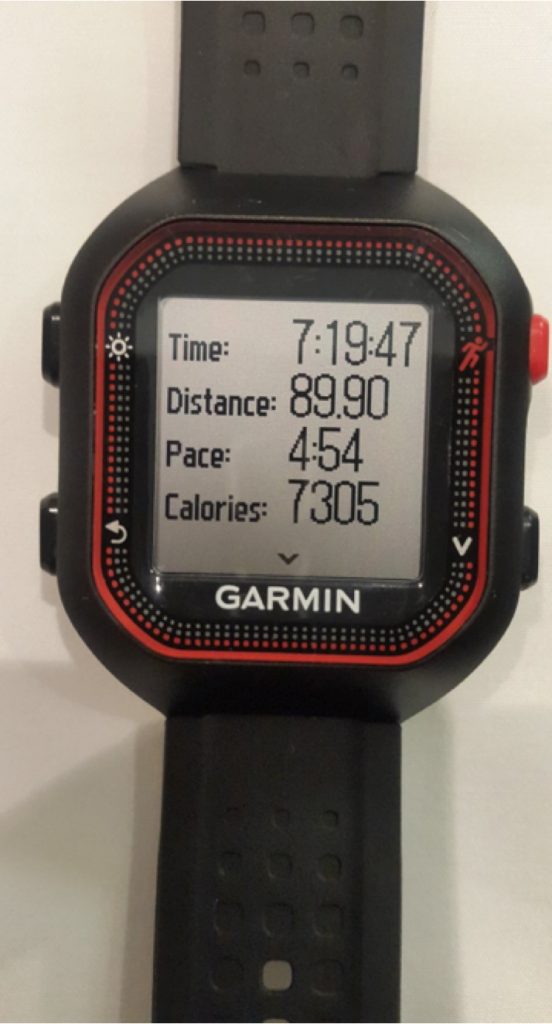 The finish line is another marvel to behold. Rarely have I seen strangers getting bonded together in such an uplifting manner. I fall down on my knees in humble submission after getting a bear hug from a runner who finished behind me. As I walk over to receive my medal, I imagine myself being on an Olympic medal award podium. At that moment, it mattered not whether the Kenya national anthem was going to play after or not; I feel like an Olympic champion as a lady with a big smile puts a medal over my neck. "Proud of you champ! " She quips as if reading my mind.
The support given to runners on this race is simply peerless. There is a real party going down on the 90km road stretch for an entire 12 hours. Imagine having a street party from Nairobi to Naivasha from 5am in the morning till late into the night. That's right, that's exactly what Comrades will offer you with all manner of music bands, Dj's, roadside family barbecues and cheering squads outdoing each other along almost the entire course, but for a few highway sections.
Try as I may, it remains a tall order to put in words the actual feeling one gets after completing this ultra-marathon. Simply put, it's going to humble you. Above all, what makes Comrades Marathon special comes from the way the rainbow nation has come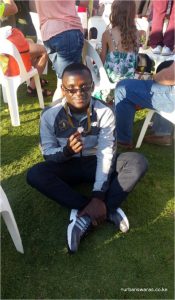 to embrace the event with the buzz and camaraderie around it likely to leave a lasting impression on many a runner. So much that more often than not, runners who have finished Comrades before are likely to attempt it again, despite the immense challenge it offers. And here I was, thinking there was no more motivation and joy left in me in road running!
I got wet eyes watching a lady getting cramps about 50 metres to the finish line and unable to move any further as the countdown of the 12 hours cut-off time echoed inside the Kingsmead stadium. For me, the real heroes of any marathon race and specifically Comrades Marathon are the runners coming at the tail end of the race. Imagine running for more than 12 hours and still missing out on that coveted medal! But such experience is what defines Comrades as the ultimate human race.
Make no mistake, this race is plain brutal and it's going to hurt pretty bad before one crosses its finish line, your talent and training notwithstanding. One has to nail running tactics for an entire 89km, a distance that accommodates so many variables that some are bound to go wrong on any given day. The race will test your mettle like nothing you have experienced before, regardless of neither your preparedness nor type of medal you are chasing after.
But as one Mitch rightly penned a while ago, hard is what makes it great and the satisfaction one gets on completing this race is a real gem. It has often been said that people change fundamentally after running the Comrades Marathon. I am inclined to agree as besides forming a special bond with total strangers, there is surreal self-actualization that Comrades Marathon brings which I will forever treasure in my walk of life. Bamba Iqhaza! -Be part of it!